Ukázky referenčních produktů naší specializované strojní výroby
Examples of some of our specialised machined products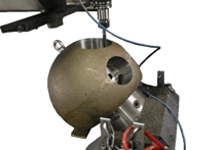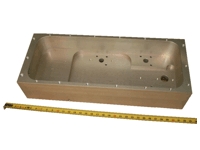 Litinová koule
sloužící jako jeden ze základních kamenů montáže astronomického dalekohedu. Obrábění pod různými úhly na jedno upnutí (hmotnost 220 kg)


Cast Iron Ball
Serves as one of the foundation stones for the assembly of an astronomical telescope. Machining under various angles using a single clamping setup (weight 220 kg)
Přístrojové součásti
Rybinová upínka, optický dělič, vodící kámen, speciální matice, adaptér - bajonet Canon, dekorativní kroužek. To je jen pár vzorků z našeho rozmanitého sortimentu zakázkových dílů pro přístroje.


Instrument Components
A dovetail clamp, an optical splitter, a guide stone, a special nut, an adaptor - Canon bayonet, a decorative ring. These are just a few samples from our wide range of custom instrument parts.
Pouzdro optického přístroje
Frézováno z bloku duralu, množství různých / i poněkud atypických / závitů. Povrchová úprava Alodine.
Optical Instrument Housing
Milled from a block of duralumin with many threaded holes – several are non-standard. Alodine surface treatment.